Reception and queue management
Opening hours
Monday to Friday 8:00 a.m to 6:00 p.m
Saturday & Sunday Closed
ITECHIA offers you the most advanced reception and queue management solutions on the market.
You can allocate your teams according to demand, establish a personalized relationship with your visitors and give a modern and dynamic image to your reception.
The modularity, flexibility and interoperability of our solutions make it a unique and integrated offer.
The real-time vision module allows you to monitor and quickly use your data to optimize your reception and measure your activity.
The SmartWait solution frees the visitor from waiting and offers them a unique customer service.
The agenda is found online for reception by appointment.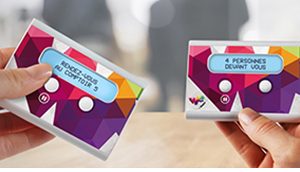 Opening hours
Monday to Friday 8:00 a.m to 6:00 p.m
Saturday & Sunday Closed