OUR PARTNERS
Monday to Friday 8:00 a.m to 6:00 p.m
Saturday & Sunday Closed
WE DISPLAY AND DELIVER YOUR CONTENT EVERYWHERE
We 'display' by providing Digital Signage Solutions to customers & 'deliver' by using multimedia solutions to bring content to the target public.
Ideal for corporate projects (Banks, Insurance, Telecoms, Administrations, Universities, Hospital, Education, etc.) our "TV-Tools Digital Signage" solution is cross-platform and compatible with Windows, Android, Philips, LG, Samsung and HTML 5.
Building on the confidence that our Customers and Partners have witnessed in us for nearly a decade, our team spares no effort to make "your digital signage projects" examples of success in both Morocco and elsewhere.
In addition to meeting the most stringent security standards, TVTools naturally has its own Designer module and constitutes a global platform for your present and future digital signage projects.
Our TVTools Digital Signage Solutions
INTUITIVE
The multi-user interface of the TVTools solution makes it easy to import or create your content and then broadcast it on your network of screens.
Many dynamic templates are available to you for the creation of professional animations without the need for specific training.
Using the TVT Designer, creating animations is accessible to everyone!
EFFICIENT
Available in SaaS mode or in internal deployment, the TVTools solution is resolutely client-server oriented.
TVTools frees itself from any constraint linked to a dedicated Player and guarantees you full interoperability with many environments: Windows, Android, or SoC integrated into screens such as IIYAMA, LG, PHILIPS, SAMSUNG, SONY …
More than 100 connectors at your disposal to simplify and automate the display of your data.
PERFORMANCE
TVTools technology offers a multimedia of creative display opportunities that will grab the attention of your customers and employees. Among the features: modification of your programs in real time, HD and Ultra HD management with perfect fluidity, multi-zone cutting, management of video walls, etc.
In order to guarantee the integrity of your content, the TVTools architecture uses the HTTPS protocol.
The solution guarantees the confidentiality of exchanges between administration stations and screens by mutual authentication.
TVTools is also a powerful infographic creator but also a user-friendly interface to provide simplified and efficient access to contributors via a web portal.
All the main file formats are supported by TVTools (images, texts, videos, PDF, PPT, …) and can be integrated into the content creation tool, the Program manager.
A digital system for updating your data!
TVTools is capable of dynamically aggregating data from multiple sources. The data can be stored locally, in a network share or from an HTTP of HTTPS URL (texts, Excel, RSS, XML, SQL, Exchange, Google Calendar, Lotus Notes, etc.)
You will also be able to enhance your content with national and regional weather models, as well as fully automated RSS flow models.
The RSS flow models provide you with live information both on all national news with France Info, but also more specifically on sports news with the Team.
Plan and distribute your content with a simple drag and drop!
The new TVTools planning module allows you to manage your content in the form of broadcast grids associated with a calendar. All the functions of the planner are accessible by simple "drag and drop".
Full web portal: WebAccess
Rather than using a thin client with limited capacities, TVTools offers full access to all software functions from a WEB browser (tablet/smartphone/MAC/Linux).
– Secure and simplified web interface
– Control your display from your computer, smartphone and tablet
– Edit your images, videos, texts and feeds in a few clicks
– Make your corrections in real time
TVTools WebAccess is the Internet platform for creation and administration of TVTools. Accessible from any smartphone, tablet and computer, this tool is designed to make rapid real-time changes to your digital signage and to collaborate with partners who are non-initiated to TVTools software.
TVTools MobilityAccess is an editing tool that gets to the point. It allows you to edit content or create pages, no matter where you are, from your phone or tablet.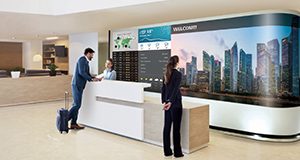 OUR PARTNERS
OUR PARTNERS
Monday to Friday 8:00 a.m to 6:00 p.m
Saturday & Sunday Closed